Models/Colors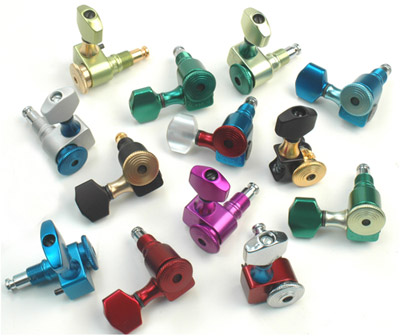 Sperzel tuning keys offer our unique design and precise machining tolerances to eliminate shaft wobble and provide minimum backlash and endplay, which greatly reduce your guitar's tuning problems. Our housing extends further up the shaft with the bushing threads on the outside, keeping the string post solid.

All guitar models are easily reversible, allowing conversion to left-handed or custom configurations. Sperzel has been manufacturing staggered string posts since the late 1970s, allowing for better pull through the nut and reducing the use of string trees on six-in-line guitars with flathead stocks. Guitars with tilt-back head stocks use all one post height; our years of experience will help you determine the height you need. This is important to know when ordering the correct set of keys for your guitar - staggered for flat; non-staggers for tilt-back.

Our unique design allows you to choose the style of housing (or body), Enclosed or Open Back, and also what model string post, Trim-Lok, Sound-Lok or Solid-Pro, is right for you. Custom builders welcome.

All Sperzel tuning keys can be assembled in either body (housing) style:
Enclosed Housing


Open-Back Housing

Trim-Lok
This is the ultimate in tuning keys. The locking feature eliminates the need for multiple string wraps, and trem users no longer need a locking nut that deadens string sustain and all annoying Allen screws and wrenches (added weight). Tired of tying strings? This is the answer. This model is proven to hold strings tightly, allowing the guitar to stay in tune to improve playing enjoyment. The Trim-Lok is a mechanical type locking system that can be used on ANY guitar, including non-trem or acoustic.

Here's how Trim-Lok works:
The Trim-Lok is a mechanical locking system. Unscrew locking knob until locking pin inside string post clears string hole.

DO NOT REMOVE KNOB, AS IT MAY RESULT IN LOSS OF LOCKING PIN AND DESTROY THREADS ON LOCKING KNOB SCREW AND MAY NOT SCREW ALL THE WAY IN TO LOCK STRING POST. THIS WILL VOID WARRANTY!

Now, insert string into hole and pull string all the way through post until tight, while holding string screw locking knob in until string is locked to post. Do not over-tighten; finger tight will do. Then, tune to pitch (Approximately 1/2 turn with tuning button). You should be in tune; cut excess string and repeat the process for remaining strings

REMEMBER, there is NO TYING or WINDING of the string on the Sperzel Trim-Lok, which stabilizes tuning. There is less stretching of the string because you have taken the slack out by pulling tightly when starting. Also, string does not have to seat itself.
NOTE! When installing staggered post height sets, there are two short posts, two medium posts and two long posts. Start with high "E" string and work back towards low "E."
The short post ---------- High E & B strings
The medium post ----- G & D strings
The long post ----------- A & Low E string
Rule of Thumb: Always start with the shortest post furthest away and longest post closest to the nut.
Sound-Lok
This is a more friction-passive positive locking system which still eliminates multiple wraps around the string post. Usually a 1/2 to a full wrap locks the string tightly, improving tuning stability for any kind of guitar.
Here's how Sound-Lok Works
The Sound-Lok tuner is a friction lock system, and has the look of vintage safety posts of the past, where you had to measure the string and cut to length. This was very time-consuming and wasteful, especially if you cut the string short.
The Sound-Lok needs no measuring; simply insert string into the hole by the slot and feed string all the way through the shaft until it comes out the bottom of the post. Pull the string until tight, then bend the string so it lies in the slot on top of the post. With your thumb holding the string in place, tune to pitch with tuner button (Approximately 1/2 - 1 full wrap is required). The string will automatically grab and lock into place. Cut any excess string and repeat for remaining strings.
Solid-Pro
This is our non-locking model that requires tying and winding. It incorporates all the precision machining in a traditional style. You can feel the solid integrity. This key was featured on the 25th anniversary Strat.
Bass Locking Tuners
The same unique design and machining as our Trim-Lok tuners in a bass model, eliminating the need for multiple wraps around the string post. Our bass tuning keys will fit in a 7/16" hole in head stock.
The "D" Thing
A Universal replacement unit drop tuner that is easy to install and simple to use. No big bulky contraption to mount, D Thing is integrated into the tuning key.
Sperzel offers a number button shapes and finishes to choose from and also comes in colors

(From left to right): No. 1, No. 2, No. 5 & No. 6
*Images not actual scale, please call for details.

Dare to be Different: Anodized Colors and Satin Finishes
All Sperzel tuning keys are available in many colors and combinations to individualize your guitar. Break away from traditional plated finishes. In reality, the anodized finish is better for the integrity of the tuning key because it is etched into the components and does not affect tolerances and is more environmentally sound. Plating is a coating and is not environment-friendly.



3+3 STD Pearl (Open-Back)


6 S/L chrome plated (Open-Back)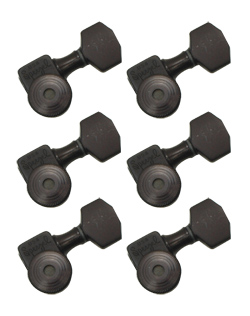 6 TL Black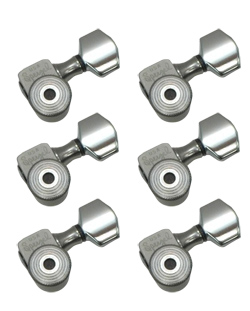 6 TL SB/C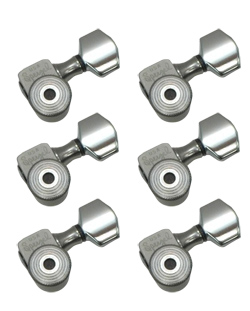 6L T/L SB/C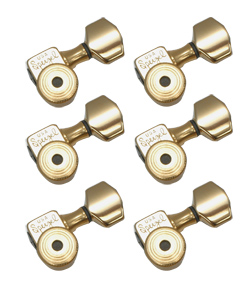 6 T/L Gold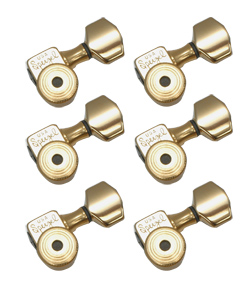 6 T/L Gold A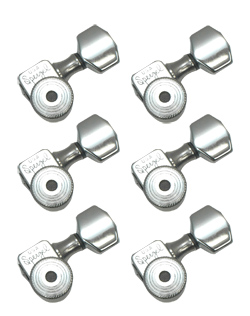 6 T/L Chrome-Plated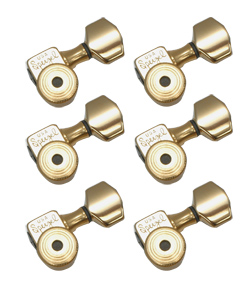 6 T/L Gold-Plated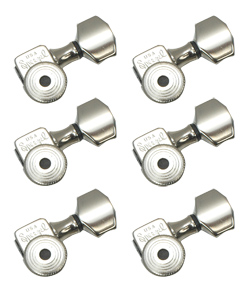 6 T/L Nickel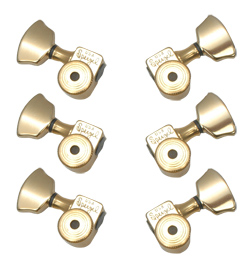 3+3 T/L Gold-Plated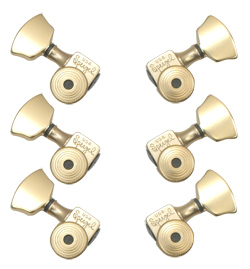 3+3 T/L Gold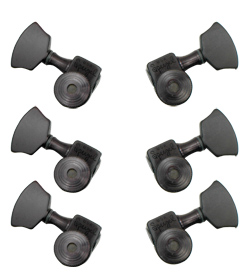 3+3 T/L Black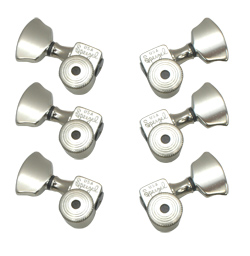 3+3 T/L Nickel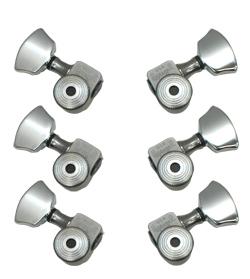 3+3 T/L SB/C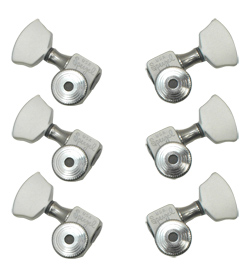 3+3 T/C SC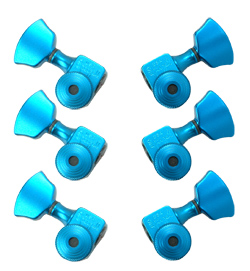 3+3 T/L Blue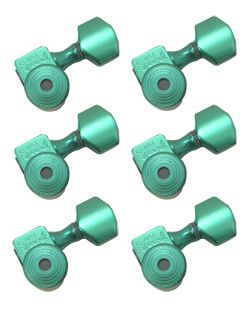 6L T/L Green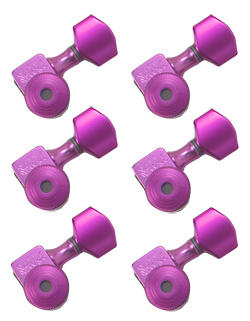 6L T/L Purple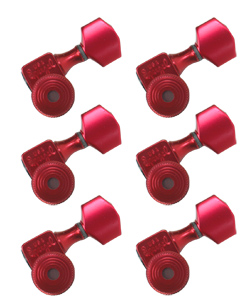 6L T/L Red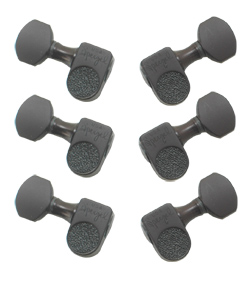 3+3 STD Black Satin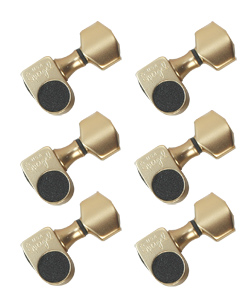 6L STD Gold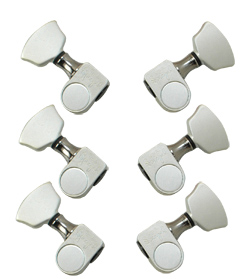 3+3 STD Satin



3+3-sl-blu-gr-anodized


3+3-tl-green-gold-anodized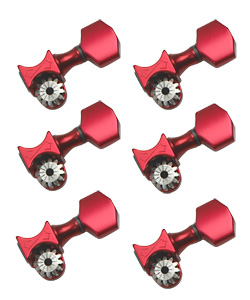 6l-sl-red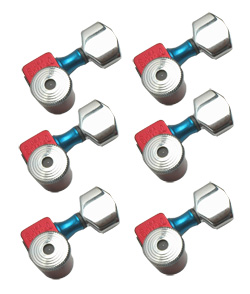 6l-tl-blu-red-chrome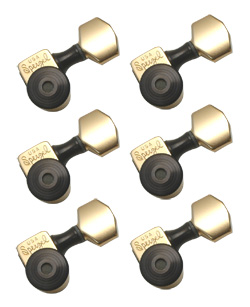 6l-tl-gold-black-anodized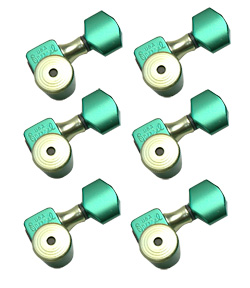 6l-tl-green-anodized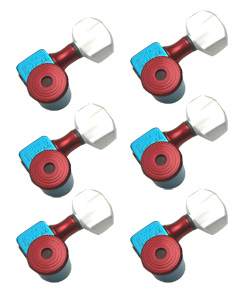 6l-tl-red-blue-anodized